AKIMA-GAYUK PUPPY'S
Wold Lakes Chignik Chevy x Akima-Gayuk Neskika Sikhs Amiq
BORN 19.09.2005
For information about the breed or future breeding you can always contact us.
If you'd like to see what our puppy's look like young and grown up continue on this page for former litters!
Amiq with her 1,5 week old pups (eyes still closed)

and Sandra, Mika Ty-ee and Rob de Hoogh-Luidens

Akima-Gayuk Krilanartok Najanga

Always the best very much wanted sister

"NAJANGA"

She is our girl number 7 in the Akima-Gayuk pack!

Akima-Gayuk Nakuusiaq Tika

Always the best OkÚ received love gift

"TIKA"

Akima-Gayuk Isumanniq Chinook

Always the best hot wind

"CHINOOK"

Akima-Gayuk Qimagta Kaiyakh

Always the best pulling dog entrailing

"KAY"

Akima-Gayk Samani Nilak

Always the best watching out on clear Ice

"NILAK"

Akima-Gayuk Yup'ik Brother Cody

"CODY"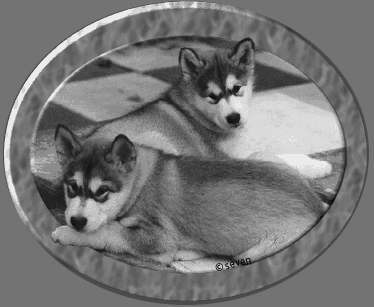 homepage
---
PEDIGREE FOR pups Amiq x Chevy born 19.09.2005
Sex: 5 males 1 female
Breeder: Akima-Gayuk J.P.A. & S.E. de Hoogh-Luidens, Holland
GF: Avyuk JW'95

GGF: Wolverine Valley Norsuak

GGM: Qidlanek of Borakis Line

Father: Ch. Wold Lake's Chignik Chevy

GM: Laska Maleygmyut Ela´ka

GGF: Ch. Inuits Luavik of Zagoskin W'87

GGM: Laska

GF: Joli Mapa Yumaeskymo

GGF: Multi Ch.Joli Mapa Unitedlove

GGM: CH'Mani Tatonka Issues Of Yukon

Mother:

AKIMA-GAYUK

NESIKA SIKHS AMIQ

GM: Mia-Tuk Of The Morning Valley

GGF: Multi Ch AMCB Clubwinner Yupik's Gizmo

GGM: Our Youra Of Borakis Line